To make a terrace look attractive, it is a good idea to add plants to it. In addition to their cosy character, they are also a wonderful decorative element. But if they are to fulfil their function perfectly, they still need the perfect setting.
The material is important
When choosing flowerpots, the first thing to consider is the material. If they are to last more than one season, it is important to consider whether they are resistant to weather conditions such as UV radiation, moisture, and frost. The inside of the pots can be additionally protected by Styrofoam, which will prevent the root system of the plants from freezing. In stores you can find pots made of various materials: metal, wood, plastic, clay, polyethylene – we propose concrete.
Architectural concrete flower pots
Concrete flower pots do not have to be clumsy. Their biggest advantage is primarily the high durability of the material and the ability to easily combine several models. They are available in uniform colors (mainly in shades of gray, beige and white), so we do not have to worry that they overwhelm our terrace with their presence. They also give room for bold, modern arrangements. Such pots can not be knocked over by the wind, they are stable, resistant to rain.
Large sizes
Concrete pots will work especially well for sizable plants with a well-developed root system, as they are available in large sizes. They are ideal for shrubs and trees grafted on the trunk, they will become a good support for them. They are extremely solid and at the same time very elegant. The raw concrete will look great among the greenery and sophisticated garden furniture of modern designs. A variety of pots in different sizes can be used on the terrace, which will look interesting.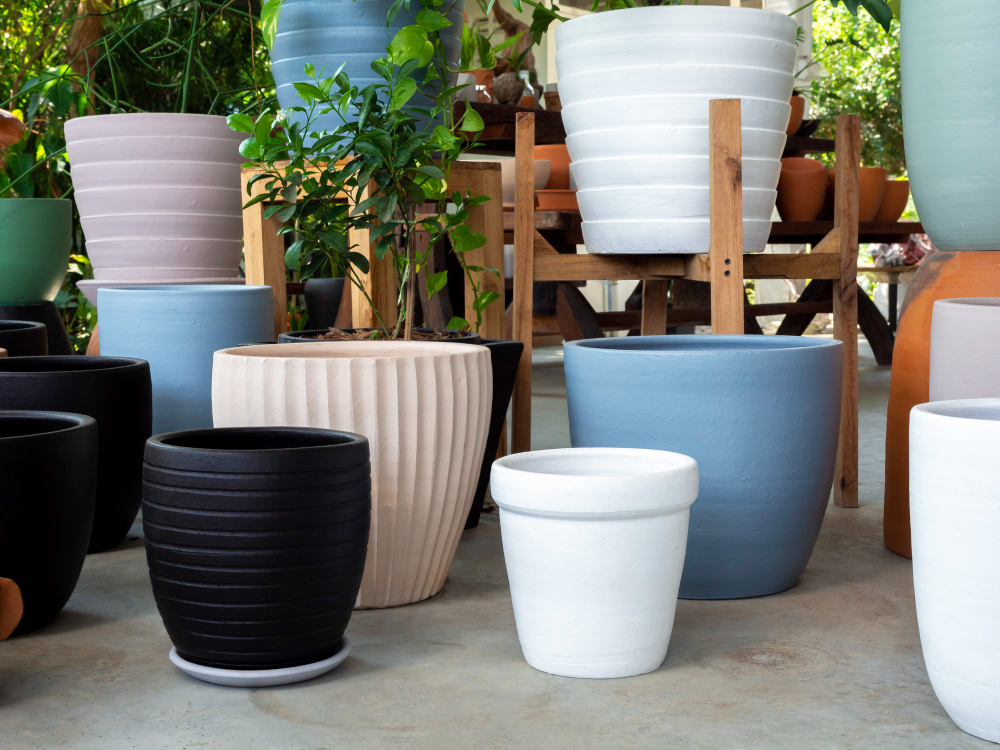 Simple beauty
Concrete pots, despite the uniform color and structure, can be found in different shapes: oval, square or rectangular, they can be small, medium or large. They also do not have to be proportional (they can have, for example, a smaller base and a larger top).
Romantic evening
Modern lighting in the form of numerous LEDs, wooden garden furniture and white accessories such as white curtains or a sail umbrella. On such a cozy terrace can not miss comfortable seats with numerous pillows and soft blankets. Concrete flower pots in shades of beige or white are perfect for this setting. You can use pots with unusual proportions, but don't exaggerate with their number.
>> See also: Plants worth having in your garden
Our jungle
By taking advantage of the concrete pots' packability and minimalist charm, you can create the look of a real jungle on your patio. Choose concrete pots (in shades of grey) and plant them with big palm leaves, ficus or sago. How about pots of different shapes and sizes? Choose wicker garden furniture. How about something boho? Pillows in turquoise and orange, a hanging hammock? It all depends on our creative invention.
Home is our fortress
In concrete garden pots can be planted, for example, tall grass or miniature shrubs and trees, effectively shielding our terrace from the busy road or neighbors. The concrete pots can be arranged in a neat row resembling a wall. From the outside, they can be admired by people passing by, which will become a showpiece of our home. If you only want to emphasize the space, you can place the pots in the four corners of the terrace. As you can see, there are many possibilities of arrangement, we can place them freely, but remember that concrete is quite heavy.
Modern design
Terrace owners are well aware of the importance of proper space management. You need durable and stable materials, and it is precisely the concrete garden pots that will prove excellent at this point. Modern style, various sizes, durability against weather conditions and stability – these are their main features.